ABOUT AAPM™
AAPM™, a global board of standards and accreditation council, awards the Master Project Manager (MPM™) designation to qualified project management industry professionals. MPM™ is the world's premier graduate master's certification program for project managers, which is specifically designed for individuals with the responsibility of taking a project from inception to completion.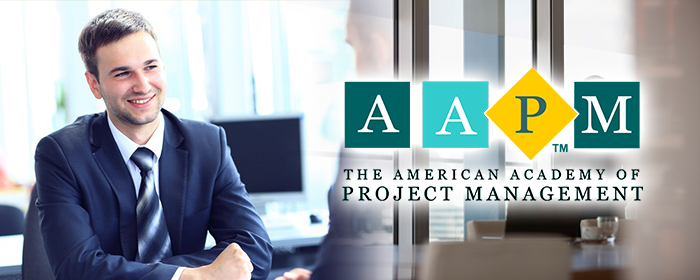 Attend this fully certified course by the American Academy of Project Management and qualify to receive the designation Master Project Manager™
• Define and explain a context and framework for successful project management and leadership.
• Motivate the accountable and responsible members of the project management team.
• Introduce and apply of practical tools and techniques for enhanced project communication.
• Identify and manage approaches to ensure proper delivery of scope, time, cost and quality to meet and/or exceed stakeholder needs.
• Identify the concepts for successful project change management to improve change at both an organization and personal level.
• Present decision making and creative problem solving around the complex decision model.
• Close out the project and post-implementation reviews provide opportunity for completion, acknowledgment, and final project validation.
AAPM's mission is to serve its global membership and stakeholders as a world leader in educating and reinforcing the international knowledge of executives and potential leadership of institutions. AAPM ™ now has representative offices in the US WTC N.O. Offices, Hong Kong, Beijing, India, Moscow, Istanbul, Dubai, Athens, Guyana, Puerto Rico, Bahamas, Kuwait, Latin America and South America, Singapore, The Caribbean, Europe, and now the Philippines. AAPM ™ mandates consent to high standards of professional conduct, and AAPM activities are International in nature and scope.